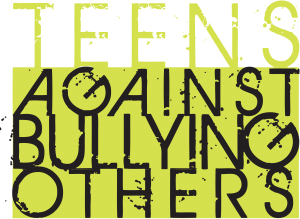 "I want my school to be a friendly place that I can be myself without anyone telling me something like 'Wow MY NAME you're so stupid and weird.'"     –6th grade student
Teens Against Bullying Others (TABO) started in late 2011 as a way for youth to play an active role in stopping bullying in their schools. Using the curriculum, educators can help High School-age youth increase skills and confidence in teaching and stopping bullying. Then, those High School youth teach anti-bullying lessons to Middle School youth.
TABO Curriculum
For staff training, afterschool resources, or more information about any of the above, contact:
Kelly Labar, Program Coordinator, Boys & Girls Club of the Greater Chippewa Valley-Lunda Center, 405 State Highway 54, Black River Falls, WI 54615, klabar@cvclubs.org, 715-284-4005.
Karla Gearing, Health & Well-Being Educator, Jackson County UW-Extension
715-284-4257 ext. 502 (711 Wisconsin Relay) or karla.gearing@wisc.edu