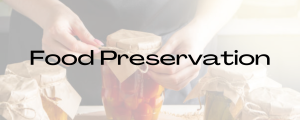 Jackson County no longer has an educator trained in food preservation. As a result, we can not support consumers by answering questions. Below you will find many available resources that you can use to help with your food preservation needs.
Check out the following resources:
National Center for Home Food Preservation https://nchfp.uga.edu/ – if there is research to support safe home food preservation, you'll find it here.
Safe & Healthy blog (UW Division of Extension) safe recipes (including a link to Wisconsin food preservation bulletins), how-to videos, a blog with frequent updates, and training resources Safe & Healthy, Preparing and Preserving Food at Home.
(Here you can sign up for the Safe Preserving & Food Safety blog and receive updates right to your inbox)
The Learning Store (UW-Extension) https://learningstore.extension.wisc.edu/ Print copies of Wisconsin bulletins.   
The following subjects are just a sampling of The Learning Store's Food Preservation Publications.
Canning Fruits
Canning Meats
Canning Salsa
Canning Vegetables
Freezing Fruits & Vegetables
Homemade Pickles & Relishes
Making Jams, Jellies, and Fruit Preserves
Tomatoes Tart & Tasty
and more.
---
Canner Lid Testing
Extension-Jackson County: Does not have an Extension Educator trained in "Food Preservation" on site responsible for this service, so we do not offer canner lid testing at this location.
Here is a link that will take you to the University of Wisconsin Extension-Madison page called Food Preservation and Pressure Canner Testing  for counties that still have an Extension Educator trained in "Food Preservation" on site.
(Note: Consumers who have a Presto dial‐gauge canner can call Presto directly at 800‐877‐ 0441.)